A New Podcast Helping Churches Talk About & Tackle the issue of P0rnography
This month Naked Truth project launch the PWORD podcast, offering an in-depth, comprehensive and best of all free resource for churches. Packed with expert and proven advice for leaders, this podcast includes contributions from Christian practitioners, thinkers and specialists leading the way in the sex and porn addiction, betrayal trauma and recovery.
The PWORD Conference
For several years Naked Truth Project has been delivering awareness and training for churches primarily through a day conference we call the "PWORD CONFERENCE". This event has been hosted in London, Cardiff, Belfast, Glasgow, Nottingham, Cumbria and Durham and in 2021 was streamed live with over 30 international and world-leading experts contributing. We have taken some of the key moments and best bits from those events, adding some of our team's conversation and commentary and are excited to announce the launch of a brand new podcast for church leaders called the PWORD PODCAST
Introducing the PWORD podcast
Join our CEO and founder Ian Henderson and our Director of Recovery, Cat Etherington as they discuss and unpack topics vital for churches to consider and play curated extracts from some of the PWORD conference talks and sessions.
In the first episode in the series, Ian and Cat play and discuss extracts from leading experts Dan Drake, Dr Jake Porter and Dr Paula Hall and explore how the church's response to porn use and addiction can be shaped by both theological and scientific thinking.
The PWORD podcast is available on spotify, apple podcasts or you can listen here.
Some more information about WHO contributed in this month's PWORD podcast:
Dr Paula Hall: Paula is a UKCP Registered Psychotherapist who specialises in sex and porn addiction. She is author of 4 books on the topic, including Confronting Porn, A Guide for Christians and is a regular public speaker and media broadcaster. Paula is the founder and Clinical Director of the Laurel Centre which provide therapy to clients and training to professionals.
Dr Jake Porter: Dr. Jake is the Founder and President of Daring Ventures Counselling, Coaching, and Consultation. He is the creator of Couple-Centred Recovery, a model that places attachment relationships at the centre of the healing process. Dr. Jake is also Assistant Professor of Counselling at Houston Graduate School of Theology, and serves as Director of the Doctor of Professional Counselling program.
Dan Drake: Dan Drake is a Licensed Marriage and Family Therapist, Licensed Professional Clinical Counsellor, Certified Clinical Partner Specialist Supervisor, Certified Sex Addiction Therapist Supervisor, husband, father, and life-long student. He has co-authored several books, including Full Disclosure: How to Share the Truth after Sexual Betrayal, and Letters from a Sex Addict: My Life Exposed. Dan is the Founder and Clinical Director of Banyan Therapy Group in Studio City, California.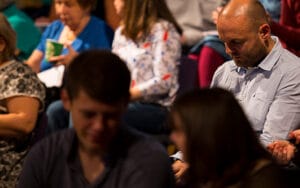 Church Membership Programme
Did you know that Naked Truth Project now has a FREE membership programme for churches? The membership programme also includes a curated selection of talks recorded at the PWORD conference, but with our membership programme you can watch many of the talks featured in the podcast in full.
Click here to find out about and register for Naked Truth Project's Church membership.
What else does Church Membership offer?
Additional support and resource available in our Church Membership also include:
Free access for all your teams
Library of online and on-demand training
Streamed workshops & training
Materials to use in your context
Consultancy and Support
Current online training courses include modules for Youth Leaders and their teams and modules for home group and small group leaders.
Available online and in an app
Your church has unlimited sign-ups. Each team member or congregant who signs up has their own individual content library. Using the mobile app or a browser they can access all the courses in their own time, and pick up where they left off.